With the boom in internet services worldwide, it is often difficult to sift through the technology hype and the vast number of choices available. Lodge Street Systems aims to give you a clear, easy to understand set of options that will suit your particular requirements. We do not pretend to be the most creative kids on the block but instead choose to give our clients a well rounded, functional and well-designed website.
Many websites are simple pages that promote your business or provide set details of a project or club. Other websites are like shops … they need to be welcoming, allow customers to easily find the right product and provide a way to pay for their purchase. Some websites are more interactive so members or users can easily signup, login and participate in your organisation or event. Then there's the blog or forum that let visitors read and comment on your topic of choice. Whatever your particular needs are, we can tailor the most appropriate option for you.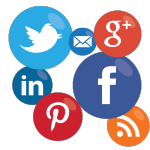 What is Social Media Optimization?
Social Media Optimization (SMO) uses social media (Facebook, Twitter, Youtube, etc.) to attract unique visitors to website content. SMO is an important aspect of your social media marketing strategy because it increases your website's popularity on the Internet and it helps in achieving your ultimate sales goals. Social media communication is growing at a rapid pace. It is considered one of the most effective mediums for companies to reach their consumers. With social media's intensive growth, it can be difficult for a small to medium sized business to be heard.
Static Website
Company details/Maps and directions/Operating hours
If your business has information to share that does not have to be changed frequently then a static website may be for you. A static website is a simple website design which is cost-effective for groups, small enterprises or individuals wanting to expand their business through the web. With static websites, individuals or small business can display information regarding their company and products in a simple manner at low cost. This type of website is very useful for displaying 'static' information on the Internet. A few examples might be to display store hours, directions, FAQ's, or contact details. The development of a typical static website is usually faster and more affordable for those businesses that just want a simple online presence.
E-Commerce Website
Shopping carts/Catalogs/Online stores
Buying and selling goods on the Internet is one of the most popular examples of e-commerce. Sellers create storefronts that are the online equivalents of retail outlets. Buyers can browse and purchase products with a few mouse clicks. As more shoppers are choosing online shopping over traditional methods, e-commerce opens the door to increased opportunities in this competitive market. Ecommerce is not just for retail products but can help wholesalers who sell directly to other businesses (B2B). An e-commerce website allows you to manage products and inventory, receive payments and ship your products using secure and proven platforms.
Content Management System (CMS)
Forums/Newsletters/Membership management/Campaigns
A content management system (CMS) allows approved users to add, edit and publish information like articles, documents, images and clips. This means you can assign various staff or members to add content to your website. You have full control of who can manage content with the option of allowing anyone to sign up and become a member. A CMS has many key features already built-in which can be activated when needed. In the early days of the web, being an expert in HTML was a necessity. Today, a proper content management system eliminates this requirement and allows just about anybody to publish online. The most simple form of content management is a basic blog, which is low cost, easily customised, user friendly and efficiently manages workflow leading to publication on the web. The high-end is comprised of enterprise-level systems that allow large amounts of content across many locations or websites and can involve extensive customisation with extra features.